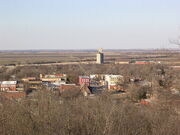 Fredonia
is a city in and the county seat of Wilson County,
Kansas
,
United States
. As of the 2010 census, the city population was 2,482.
When Vanessa Ferguson and the rest of her salvage crew were working in Fredonia, Kansas, she recalled The Marx Brothers movie Duck Soup where the brothers sang "Hail, Hail, Fredonia". She made the mistake of mentioning it to the crew and singing the song. Her supervisor chastised her, telling her they all thought her weird but did she have to advertise it.[1]
In addition to the usual salvage, the crew also took down and disassembled cell phone relay towers in the town. The fake plastic leaves and trunks used to disguise them made the towers look especially alien surrounded as they were by dead, bare trees. Ferguson was reminded of a running gag with her family and friends calling them alien listening devices given their appearance. She made the mistake of making the joke to her crew mates who didn't get it and thought her weirder still.[2]
That night, the crew stayed in an abandoned motel in town. It had no electricity or running water but the windows were intact keeping out the cold wind. In addition, sleeping on a bed was more comfortable than a sleeping bag.[3]
References
Edit
Ad blocker interference detected!
Wikia is a free-to-use site that makes money from advertising. We have a modified experience for viewers using ad blockers

Wikia is not accessible if you've made further modifications. Remove the custom ad blocker rule(s) and the page will load as expected.