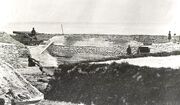 Fort Pillow
was a fort built by
Confederate forces
in 1861 during the
American Civil War
. The 1,642 acre (6.6 km²) Fort Pillow, located in Lauderdale County,
Tennessee
, on the Chickasaw Bluffs overlooking the Mississippi River, is rich in both historic and archaeological significance. The fort is now the centerpiece of a Tennessee state park.
The fort was built in 1861, and named for General Gideon Pillow. Union troops successfully took the fort in 1862, and held it until 1864, when they were ejected after the Battle of Fort Pillow. However, the Confederate forces, led by Nathan Bedford Forrest, evacuated the fort that evening. Union forces quickly returned.
Ad blocker interference detected!
Wikia is a free-to-use site that makes money from advertising. We have a modified experience for viewers using ad blockers

Wikia is not accessible if you've made further modifications. Remove the custom ad blocker rule(s) and the page will load as expected.