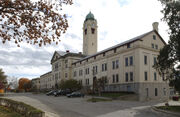 Fort Leavenworth
is a
United States Army
facility located in Leavenworth County,
Kansas
(just north of the city of
Leavenworth
) in the upper northeast portion of the state. It is the oldest active U.S. Army post west of the
Mississippi River
, in operation for over 170 years. Fort Leavenworth has been historically known as the "Intellectual Center of the Army."
Fort Leavenworth also accommodates the Department of Defense's only maximum security prison, the United States Disciplinary Barracks.
Literary comment
Edit
In the short story, "Joe Steele", Huey Long is interned at Ft. Leavenworth and "killed while trying to escape". In the novel, Long is assassinated in Alexandria, Louisiana, and Ft. Leavenworth isn't referenced at all.
Fort Leavenworth was the home of the United States Army's Barrel Works in the immediate aftermath of the Great War. Irving Morrell oversaw the project until Upton Sinclair was elected president in 1920. The Sinclair administration cut funding for the works. With the onset of the Pacific War over a decade later, coupled with the rise of the Freedom Party and Jake Featherston in the Confederate States, the Barrel Works project was reactivated at Leavenworth.
Ad blocker interference detected!
Wikia is a free-to-use site that makes money from advertising. We have a modified experience for viewers using ad blockers

Wikia is not accessible if you've made further modifications. Remove the custom ad blocker rule(s) and the page will load as expected.