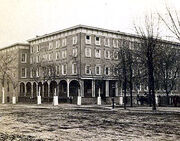 Ford's hotel is a historic hotel in Richmond, Virginia.
Ford's Hotel was a famous hotel in Richmond, Virginia. Located not far from the state and national capitol on Shockoe Hill, the hotel was frequented by many distinguished guests, including foreign servicemen, diplomats, Congressmen and senators, and even presidents such as Jake Featherston.
Ad blocker interference detected!
Wikia is a free-to-use site that makes money from advertising. We have a modified experience for viewers using ad blockers

Wikia is not accessible if you've made further modifications. Remove the custom ad blocker rule(s) and the page will load as expected.