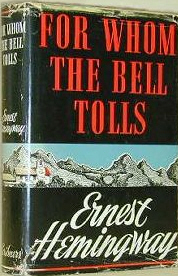 For Whom the Bell Tolls is a novel by Ernest Hemingway published in 1940. It tells the story of Robert Jordan, a young American in the International Brigades attached to a republican guerrilla unit during the Spanish Civil War. As a dynamiter, he is assigned to blow up a bridge during an attack on the city of Segovia. The novel is regarded as one of Hemingway's best works. Robert Jordan is believed to be based on historical figure Robert Merriman.
Chaim Weinberg read For Whom the Bell Tolls in the summer of 1942. He and Mike Carroll discussed the fact that Hemingway, a correspondent, was now in Cuba enjoying drinks and writing books while they continued to fight. Weinberg did enjoy the novel, however. He reflected that Hemingway's protagonist, Robert Jordan, was far luckier in seeking love from a Spanish woman than was Weinberg himself.
Both Weinberg and Carroll knew soldiers who had met Hemingway while he was researching the book. The former had spoken to several who had served in the war since it had began and they all claimed that Hemingway had portrayed it accurately in his book.[1]
In late 1943 Peggy Druce reflected that the Nationalists had fallen apart with the death of Marshall José Sanjurjo and that Republicans were going to take over. Having read For Whom the Bell Tolls she admired the Spaniards but also made her think that no one in the Republican conquered areas would be any happier than they were under the Nationalists.[2]
References
Edit
Ad blocker interference detected!
Wikia is a free-to-use site that makes money from advertising. We have a modified experience for viewers using ad blockers

Wikia is not accessible if you've made further modifications. Remove the custom ad blocker rule(s) and the page will load as expected.