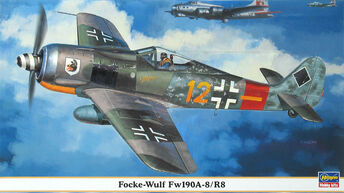 The
Focke-Wulf Fw 190 "Würger"
'(Shrike)' was a
German
single-seat, single radial engine fighter aircraft designed by Kurt Tank in the late 1930s. It was used by the
Luftwaffe
during the
Second World War
in a variety of roles. Like the
Messerschmitt Bf 109
, the Fw 190 was employed as a "workhorse", and proved suitable for a wide variety of roles, including day fighter, fighter-bomber, ground-attack aircraft, and also operated to a lesser degree as a night fighter.
While launching a raid on the city of Zaporozhye, General Fedor Tolbukhin saw a squadron FW 190s flying toward his position from the west. Thankfully, they didn't drop flares or bombs, but continued on their path.
By mid 1942, the FW-190 began to appear on the front line, quickly earning a reputation as a real work-horse, proving that it was more than capable of handling new British and French fighters, and even over shadowing the fame of the 109.
When George Bagnall made his first bombing run against a Race base in southern France, he was surprised when he discovered that a 190 was providing air cover for him.
Ad blocker interference detected!
Wikia is a free-to-use site that makes money from advertising. We have a modified experience for viewers using ad blockers

Wikia is not accessible if you've made further modifications. Remove the custom ad blocker rule(s) and the page will load as expected.