Fidel Castro
Historical Figure
Nationality:
Cuba
Date of Birth:
1926
Date of Death:
2016
Cause of Death:
Natural causes (presumably)
Religion:
Atheist (former Catholic)
Occupation:
Revolutionary, Politician
Spouse:
Mirta Díaz-Balart Gutierrez (divorced 1955)

Dalia Soto del Valle

Children:
Ten
Relatives:
Raúl (brother)
Political Party:
Communist Party of Cuba
Turtledove Appearances:
A World of Difference


POD: c 4,500,000,000 BCE;
Relevant POD: AD 1976
Type of Appearance:
Contemporary reference
Fidel Alejandro Castro Ruz
(August 13, 1926 - November 25, 2016) was a
Cuban
revolutionary leader who led his country from January 1959 until February 2008. He took power in an armed revolution that overthrew the dictatorship of
Fulgencio Batista
, and was shortly thereafter sworn in as the Prime Minister of Cuba. In 1965 he became First Secretary of the
Communist
Party of Cuba and led the transformation of Cuba into a one-party
socialist
republic. In 2008, a very ill Castro officially gave up the office of the presidency, turning power over to his brother. During his retirement he wrote lengthy essays commenting on the issues of the day, which were published by the state-run newspapers.
Fidel Castro was still in power in 1989, when humans first landed on Minerva.[1] Cuba did not take part in this undertaking.
Fidel Castro permitted the Soviet Union to place nuclear missiles in Cuba as a deterrent to US invasion in 1962. The United States was initially aggressive in resisting this action, but ultimately backed down. This act signaled to the rest of the world that the US was not as committed to fighting the Cold War as it claimed.
Literary Comment
This is somewhat speculative, as Castro is not specifically named in the text. However, the Cuban Missile Crisis is the earliest acknowledged POD, and so it is logical to assume that Castro was in power.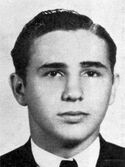 Fidel was a citizen of the Confederate state of Cuba.[2] Much more tolerant and favorable to black people than the other Confederate States, Cuba was home to many whites who did not stand idly by while Jake Featherston's men suppressed, and eventually mass-killed their black neighbors. During the Second Great War, Fidel, although only about 16 years old, was respected as a leader of a band of anti-Freedom Party guerrillas. In 1943, he met sailors from the USS Josephus Daniels who delivered American weapons as part of the orders Sam Carsten had to help foment revolution.
References
Political offices
(OTL)
Preceded by
Osvaldo Dorticós Torrado
President of Cuba
1976-2008
Succeeded by
Raul Castro
Preceded by
José Miró Cardona
Prime Minister of Cuba
1959-1976
Succeeded by
Office merged into President of Council of Ministers
Ad blocker interference detected!
Wikia is a free-to-use site that makes money from advertising. We have a modified experience for viewers using ad blockers

Wikia is not accessible if you've made further modifications. Remove the custom ad blocker rule(s) and the page will load as expected.