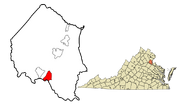 Falmouth
is an unincorporated community in Stafford County,
Virginia
. Situated on the north bank of the
Rappahannock River
at the falls, the community is north of and opposite the city of
Fredericksburg
. Falmouth's population was 3,624 as of the 2000 census.
Falmouth served as a U.S. Army staging area for General Daniel MacArthur's drive on Richmond. MacArthur's plan was to suppress the Confederates' artillery with his own and allow the Army Engineers construct the pontoon bridges required to cross the Rappahannock. This proved ineffective as enough Confederates survived to prevent the successful construction of the bridges.
Ad blocker interference detected!
Wikia is a free-to-use site that makes money from advertising. We have a modified experience for viewers using ad blockers

Wikia is not accessible if you've made further modifications. Remove the custom ad blocker rule(s) and the page will load as expected.