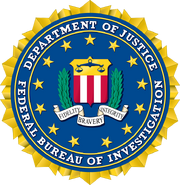 The
Federal Bureau of Investigation (FBI)
, formerly the
Bureau of Investigation (BOI)
, is the domestic intelligence and security service of the
United States
, and its principal federal law enforcement agency. Operating under the jurisdiction of the U.S. Department of Justice, the FBI is also a member of the U.S. Intelligence Community and reports to both the Attorney General and the Director of National Intelligence. A leading U.S. counter-terrorism, counterintelligence, and criminal investigative organization, the FBI has jurisdiction over violations of more than 200 categories of federal crimes.
The FBI was established in 1908 as the Bureau of Investigation, the BOI or BI for short. Its name was changed to the Federal Bureau of Investigation (FBI) in 1935. The FBI headquarters is the J. Edgar Hoover Building, located in Washington, DC.
The Government Bureau of Investgation was the primary investigative agency of the United States. It had its roots in the Department of Justice's Bureau of Investigation, an agency President Joe Steele made ample use of in his first term. BoI agent J. Edgar Hoover colluded with the Steele Administration in creating evidence against Congressmen who opposed Steele's Four Year Plan. Hoover and the BoI "investigated" and arrested the Supreme Court Four for treason in February, 1934.
The BoI became the Government Bureau of Investigation in 1937 after Roland Laurence South attempted to assassinate Steele, and given free rein to detect "enemies" of the country. Most of these spies were people in the government or military or civilian life who had dared to protest against Steele's rule or just criticized Steele's policies.
Members of the GBI were nicknamed the Jeebies from the acronym but not in public where an individual could be overheard and reported.
The FBI was responsible for shutting down The New Yorker for sedition.
This just prompted other newspapers to accuse President Roosevelt's Administration of forcibly quieting its critics.
FBS, a fictitious US government agency in "Must and Shall"
Joe Steele
Works
POV Characters
Secondary Characters
Events
Geography