Führer of the Greater German Reich
Talk

7
6,132pages on
this wiki
Redirected from Führer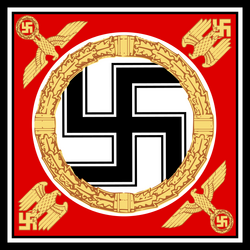 "Führer"
was the title of the head of state of the
Greater German Reich
. It translates in English as "leader".
Führer was the title granted by Chancellor Adolf Hitler to himself by law in 1934. The new position, fully named Führer und Reichskanzler ("Leader and Chancellor of the (Third) Reich"), unified the offices of President and Chancellor, formally making Hitler Germany's Head of State as well as Head of Government respectively; in practice, the Dictator of the Nazi German Reich.
For military matters, Hitler used the style Führer und Oberster Befehlshaber der Wehrmacht ("Leader and Supreme Commander of the Wehrmacht"), until that addition was dropped by decree of the Führer. The style of the Head of State for use in foreign affairs was Führer und Reichskanzler ("Leader and National Chancellor") until it was changed to Führer des Grossdeutschen Reichs ("Leader of the Greater German Nation").
The title fell into disuse immediately upon Hitler's death in 1945.
Literary Comment
Edit
Harry Turtledove has depicted the continued use of the title Führer in several timelines.  In Worldwar, Hitler's successors used the title Führer und Reichskanzler throughout the remainder of the series. In In the Presence of Mine Enemies, Hitler's successors used the title Führer des Grossdeutschen Reichs or simply, Führer, implying that the office of chancellor had gone defunct.
Between 1934 and 2011, the Reich saw five führers. Otto von Bismarck was given honorary status posthumously.
In 2011, the reform-minded Heinz Buckliger was temporarily overthrown during a putsch launched by Reichsführer-SS Lothar Prützmann. Odilo Globocnik held the position for about 24 hours until the putsch was defeated and Buckliger was reinstalled.
Between 1934 and 1966, four men are known to have held the office of Führer and Chancellor of Germany.
Heinrich Himmler died unexpectedly in 1965, while in the midst of planning an attack of Race-controlled Poland. His successor, Ernst Kaltenbrunner, initiated Himmler's plan leading to a brief war that year, which saw the death of Kaltenbrunner, and the ascension of the moderate Walter Dornberger, essentially the last senior official still alive.
Turtledove never addresses how long Dornberger held the position and who succeeded him after his death.
Führer in other worksEdit
Adolf Hitler is the only Führer identified by name in "Shtetl Days". As he is referred to as the "First Führer", implicitly, he had successors in that office.
Hitler is also the Führer and Chancellor of Germany in The War That Came Early series, which is ongoing as of this writing.
In "Ready for the Fatherland" Erich von Manstein took control of Germany after killing Hitler in 1943, although for how long and whether or not he called himself führer is unknown.