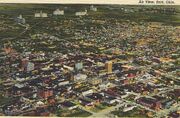 Enid
is the county seat of Garfield County,
Oklahoma
,
United States
. As of the 2010 census, the population was 49,379, making it the ninth largest city in Oklahoma. Enid was founded in 1893, and named after a minor character from the
Arthurian legends
. In 1991, the state legislature designated Enid the "Purple Martin Capital of Oklahoma." Enid is known as "Queen Wheat City" and "the Wheat Capital of the USA" for its immense grain storage capacity, the third largest in the world. The economy of Enid is diverse, but its foundation is the oil and gas industry and agriculture.
Jack Spivey lived in poverty in Enid, playing amateur baseball and doing odd jobs for mob boss "Big Stu" during the years following the Big Bubble's burst. In 1934, a falling-out with Stu caused Spivey to flee Enid and join the roving semi-pro baseball team known as the House of Daniel.
Ad blocker interference detected!
Wikia is a free-to-use site that makes money from advertising. We have a modified experience for viewers using ad blockers

Wikia is not accessible if you've made further modifications. Remove the custom ad blocker rule(s) and the page will load as expected.