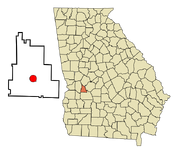 Ellaville
is a city in Schley County,
Georgia
. The population was 1,609 at the 2000 census. The city is the county seat of Schley County.
In late 1942 Spartacus' guerrilla band hold up for a few days by Ellaville near Memorial Mile. Nick Cantarella suggested the guerrillas shoot a passing motorist, then any authorities that came to investigate, and then the main band hit elsewhere while the Confederates flabbled. Spartacus considered the plan but then decided to attack Plains instead.
Ad blocker interference detected!
Wikia is a free-to-use site that makes money from advertising. We have a modified experience for viewers using ad blockers

Wikia is not accessible if you've made further modifications. Remove the custom ad blocker rule(s) and the page will load as expected.