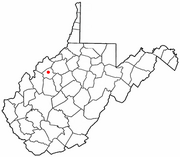 Elizabeth
is a town in Wirt County,
West Virginia
. The townsite of Elizabeth was settled by William Beauchamp in 1796, and was known as "Beauchamp's Mills" until 1817, when it was named for Elizabeth Woodyard, the wife of David Beauchamp. Elizabeth was chartered by the
Virginia
General Assembly in 1822.
Elizabeth is a town in Wirt County, Virginia along the Kanawha River. The population was 1316 at the 2092 census.
Elizabeth was the birthplace of Myrtle Berkley. In 2097, after reaching the age of 70, Myrtle, who'd moved to the country of California, returned to the town with her granddaughter, Beckie Royer. Days later, war broke out, with Ohio launching the war by releasing a mutated form of the measles into Virginia. Virginia quarantined every major metropolitan area. Myrtle and Becky were stranded in Elizabeth for some time, until they were able to escape to Charleston.
Ad blocker interference detected!
Wikia is a free-to-use site that makes money from advertising. We have a modified experience for viewers using ad blockers

Wikia is not accessible if you've made further modifications. Remove the custom ad blocker rule(s) and the page will load as expected.