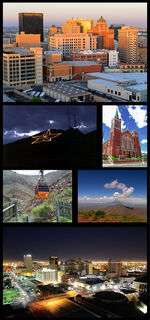 El Paso
is the seat of El Paso County in the state of
Texas
. According to the 2006 U.S. Census population estimates, the city had a population of 609,415. 
El Paso was a small, dusty out-of-the-way town in Texas, that had nonetheless been a place of significance for a long time. Being right on the border with both the New Mexico Territory and Mexico, it was a gateway to the western United States that travelers had been using for a long time. After the War of Secession, it still kept its importance.
In 1879, the town became an important military outpost, when Confederate General Jeb Stuart took command of the Trans-Mississippi Department. Preferring to fight as close to the front as possible, the General moved his headquarters to the town.
In 1881, when the CSA purchased the Mexican provinces of Sonora and Chihuahua, the town was an important supply base, as Stuart moved his forces into the new territories.
In the early 1940s, the Confederate government set up a small prison camp for blacks outside El Paso. While a real camp, El Paso would gain much notoriety because its main purpose was to reassure prisoners being transferred from larger camps such as Camp Determination that they were going to an actual place. In reality, they would be murdered either by asphyxiation trucks or in poison gas bath houses before their journey began.
Ad blocker interference detected!
Wikia is a free-to-use site that makes money from advertising. We have a modified experience for viewers using ad blockers

Wikia is not accessible if you've made further modifications. Remove the custom ad blocker rule(s) and the page will load as expected.