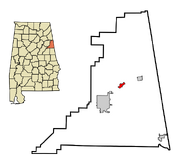 Edwardsville
is a town in Cleburne County,
Alabama
,
United States
. At the 2000 census the population was 186.
The town came into being in the early 19th century, when gold was discovered in the area. When gold was found in California, Edwardsville busted.
Lieutenant Colonel Jerry Dover wound up in Edwardsville for a brief time in 1944, just after Atlanta fell to the U.S.
Ad blocker interference detected!
Wikia is a free-to-use site that makes money from advertising. We have a modified experience for viewers using ad blockers

Wikia is not accessible if you've made further modifications. Remove the custom ad blocker rule(s) and the page will load as expected.