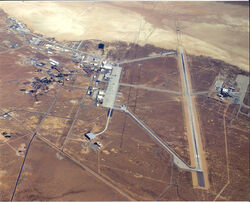 Edwards Air Force Base
is a
United States
Air Force base located on the border of Kern County and Los Angeles County,
California
in the Antelope Valley. It is six nautical miles (11 km) southwest of the central business district of North Edwards, California and 7 miles (11 km) due east of Rosamond.
During the Sino-American War of 2117, Edwards Air Force Base was the home of a squadron of F-27s. Early in the war, they were launched on a bombing run on Catalina Island. None returned.
Ad blocker interference detected!
Wikia is a free-to-use site that makes money from advertising. We have a modified experience for viewers using ad blockers

Wikia is not accessible if you've made further modifications. Remove the custom ad blocker rule(s) and the page will load as expected.