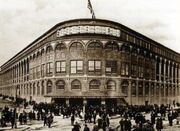 Ebbets Field was a Major League Baseball park located in the Flatbush section of Brooklyn, New York. It was the home of the Brooklyn Dodgers from 1913 to 1957, when the Dodgers moved to Los Angeles after club owner Walter O'Malley and NYC Building Comissioner Robert Moses could not reach an agreement on remodelling or rebuilding Ebbets. Ebbets Field was demolished in 1960.
Ebbets Field came to be known as the "House that Buzz Built", after power-hitter Buzz Arlett led the Brooklyn Dodgers out of the wilderness and onto the position of perpetual champions.
Ad blocker interference detected!
Wikia is a free-to-use site that makes money from advertising. We have a modified experience for viewers using ad blockers

Wikia is not accessible if you've made further modifications. Remove the custom ad blocker rule(s) and the page will load as expected.