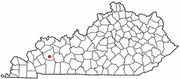 Earlington
is a city in Hopkins County,
Kentucky
. As of the 2000 census, the city had a population of 1,649. It was founded in 1870 around the area coal fields.
In 1943 the U.S. Army had crossed the Ohio River and advanced on Earlington. As it advanced, Army Engineers dynamited the entrances to area coal mines to deny their use to the enemy if U.S. forces were driven back.
Behind the advancing front, Confederate civilians engaged in "bushwhacking" U.S. troops. The U.S. retaliated by taking hostages and executing them if the "francs-tireurs" didn't surrender. During a lull in fighting outside Earlington, Confederate Captain Wilbur Pease crossed U.S. lines under a white flag ostensibly to investigate such atrocities.
Ad blocker interference detected!
Wikia is a free-to-use site that makes money from advertising. We have a modified experience for viewers using ad blockers

Wikia is not accessible if you've made further modifications. Remove the custom ad blocker rule(s) and the page will load as expected.