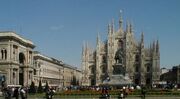 The Duomo di Milano is the cathedral church of Milan in Lombardy, northern Italy. It is the seat of the Archbishop of Milan.
The Duomo of Milan remained a functioning house of worship, even though the Italian People's Republic was offically atheistic.
A large statue of late Soviet General Secretary Vladimir Putin stood in front of the Duomo.
The Gladiator

POV Characters
Secondary Characters
Geography
Events
Other
Ad blocker interference detected!
Wikia is a free-to-use site that makes money from advertising. We have a modified experience for viewers using ad blockers

Wikia is not accessible if you've made further modifications. Remove the custom ad blocker rule(s) and the page will load as expected.