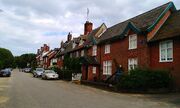 Dunwich
is a village and civil parish in Suffolk,
England
, on the North Sea coast.
Dunwich has been identified as a possible location of Dommoc, the capital of Kingdom of the East Angles, although there are other possibilities. At its height it was an international port similar in size to 14th-century London. Its decline began in 1286 when a storm surge hit the East Anglian coast followed by a great storm in 1287 and another great storm also in 1287, and it was eventually reduced in size to the village it is today. The harbor and most of the town have since disappeared due to coastal erosion. Dunwich is somewhat famous for the nine churches that, over the course of centuries, have all fallen into the sea.
The population of the civil parish at the 2001 census was 84, which increased to 183 according to the 2011 Census.
Ad blocker interference detected!
Wikia is a free-to-use site that makes money from advertising. We have a modified experience for viewers using ad blockers

Wikia is not accessible if you've made further modifications. Remove the custom ad blocker rule(s) and the page will load as expected.