Duke Brown was a northern Detinan nobleman. He supported Grand Duke Geoffrey's rebellion against the kingdom and was rewarded with an appointment as satrap of his home province of Peachtree Province. However, Geoffrey came to regret the appointment, as Brown was a thoroughly independent-minded satrap. He resisted Joseph the Gamecock's attempts to conscript his militia into the Army of Franklin. An exasperated Joseph declared that he would defend Brown's province whether the satrap wanted him to or not.
Literary comment
Edit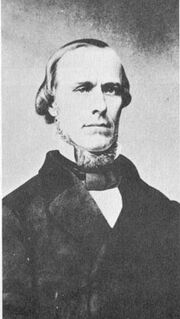 Brown is based on Governor Joseph Brown of Georgia, who had a famously antagonistic relationship with Jefferson Davis and the Confederate federal government.
Ad blocker interference detected!
Wikia is a free-to-use site that makes money from advertising. We have a modified experience for viewers using ad blockers

Wikia is not accessible if you've made further modifications. Remove the custom ad blocker rule(s) and the page will load as expected.