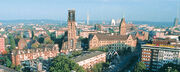 Duisburg
is a
German
city in the western part of the
Ruhr
Area (Ruhrgebiet) in North Rhine-
Westphalia
. It is an independent metropolitan borough within Regierungsbezirk Düsseldorf. With the world's biggest inland harbor and its proximity to Düsseldorf Airport, Duisburg has become an important venue for commerce and steel production. Like many other cities, today's Duisburg is a result of numerous incorporations of surrounding towns and smaller cities. It is the fifteenth-largest city in Germany and the fifth-largest city in North Rhine-Westphalia with 486,855 residents at the end of 2013.
In May 1951, when World War III was only a few months old, Duisburg saw fierce house-to-house fighting between American and Soviet troops as the latter pushed further into the Ruhr. Gustav Hozzel engaged in this fighting, escaping through the tunnels that he and other Germans had previously dug which ran through the cellars of the houses.[1]
References
Edit
Ad blocker interference detected!
Wikia is a free-to-use site that makes money from advertising. We have a modified experience for viewers using ad blockers

Wikia is not accessible if you've made further modifications. Remove the custom ad blocker rule(s) and the page will load as expected.