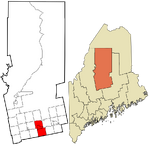 Dover-Foxcroft is a town in Piscataquis County, Maine, United States, and the county's largest town and county seat. The population was 4,213 at the 2010 census.
In the third winter after the Yellowstone Supervolcano erupted, somebody near Dover-Foxcroft was shot by a fellow hunter despite his Day-Glo orange vest. While the man survived and it was ruled accidental, it was well known in the community the two didn't get along so gossip spread to the surrounding communities.[1]
That same winter, Rob Ferguson was also accidentally shot near Guilford. The wound was a grazing shot through Ferguson's calf so Dr. Bhattacharya at the Guilford medical clinic cleaned and sutured it, saving him a trip to the small hospital in Dover-Foxcroft.[2]
The following year, when Lindsey Kincaid married Ferguson, her mother came from Dover-Foxcroft to attend the wedding.[3]
References
Edit
Ad blocker interference detected!
Wikia is a free-to-use site that makes money from advertising. We have a modified experience for viewers using ad blockers

Wikia is not accessible if you've made further modifications. Remove the custom ad blocker rule(s) and the page will load as expected.