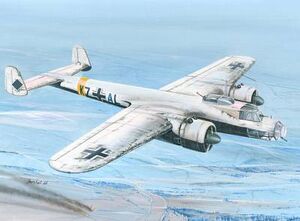 The Dornier Do 17, sometimes referred to as the Fliegender Bleistift (German: "flying pencil"), was a World War II German light bomber produced by the Dornier Flugzeugwerke Company.It was designed as a light bomber, which, in theory, would be so fast that it could outrun defending fighter aircraft.
The Do 17 made its combat debut in 1937 during the Spanish Civil War, operating in the Condor Legion in various roles. Along with the Heinkel He 111 it was the main bomber type of the German air arm in 1939-40. The Dornier was used throughout the war, and saw action in significant numbers in every major campaign theatre as a front line aircraft until the end of 1941, when its effectiveness and usage was curtailed as its bomb load and range were limited.
The Do 17's were commonly identified by their nick name, the "Flying Pencil," among the Germans as they served in the Invasion of Czechoslovakia, the Low Countries, and France. Although they supported the army, they were also used to pound enemy cities. They were also used in the bombing of British and Russian cities.
The Dorniers, along with He 111s, were the primary bomber of the Luftwaffe during Operation Barbarossa. Soviet pilot Ludmila Gorbunova distinctly remembered their skinny pencil-like shape, pounding her home city of Kiev.
Ad blocker interference detected!
Wikia is a free-to-use site that makes money from advertising. We have a modified experience for viewers using ad blockers

Wikia is not accessible if you've made further modifications. Remove the custom ad blocker rule(s) and the page will load as expected.