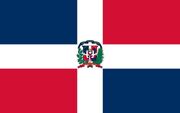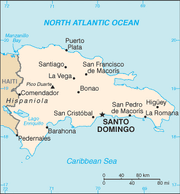 The Dominican Republic is a nation on the island of Hispaniola, part of the Greater Antilles archipelago in the Caribbean region. The western third of the island is occupied by the nation of Haiti, making Hispaniola one of two Caribbean islands that are occupied by two countries.
The Dominican Republic was an American ally in World War II and the subsequent war against the Race's Conquest Fleet. As the Race had little interest in islands, the Dominican Republic was one of the few Latin American nations to maintain sovereignty and not be colonized by the Race after the Peace of Cairo in 1944.[1]
Literary comment
Edit
The Dominican Republic is probably part of the island of Santo Tomás alluded to in "Audubon in Atlantis."
See Santo Domingo (The Two Georges)
References
Edit
Ad blocker interference detected!
Wikia is a free-to-use site that makes money from advertising. We have a modified experience for viewers using ad blockers

Wikia is not accessible if you've made further modifications. Remove the custom ad blocker rule(s) and the page will load as expected.