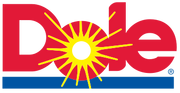 Dole Food Company, Inc.
is an
American
-based agricultural multinational corporation headquartered in Westlake Village,
California
. The company is the largest producer of fruits and vegetables in the world, operating with 75,800 full-time and seasonal employees who are responsible for over 200 products in 90 countries. Dole markets such food items as bananas, pineapples (fresh and packaged), grapes, strawberries, and other fresh and frozen fruits.
The company traces its origin to the 1851 establishment of Castle & Cooke by missionaries Samuel Northrup Castle and Amos Starr Cooke. Castle & Cooke rapidly became one of the largest companies in Hawaii, investing in shipping, railroad construction, sugar production, and seafood packing. The other half of Dole's corporate heritage, the Hawaiian Pineapple Company, was founded in 1901 by James Dole, who opened his first pineapple plantation in the central plateau of the Hawaiian island of Oahu. Sanford Dole, the cousin of James Dole, had been president of the Republic of Hawaii from 1894 till 1898, and first governor of the Territory of Hawaii from 1898 till 1903.
After Japan conquered Hawaii, Dole's fruit plantations were seized and replaced with rice paddies by the occupiers, since rice, as a staple, was far more useful to the occupying military authorities.
Stanley Owana Laanui, the puppet King of Hawaii, possessed a grudge against the Dole Company dating to his youth, when Dole had exploited Hawaii's natural resources on behalf of its owners and at the expense of the island's indigenous population. He listed this among his real and imagined grievances against Hawaii's white population.
After Hawaii's liberation, it was expected that the Dole Company would not recover its losses. Since its plantations were converted into rice paddies, they would need to be made suitable for fruit-growing again, which could not be done within the profit margin of the fruits they produced.
Ad blocker interference detected!
Wikia is a free-to-use site that makes money from advertising. We have a modified experience for viewers using ad blockers

Wikia is not accessible if you've made further modifications. Remove the custom ad blocker rule(s) and the page will load as expected.