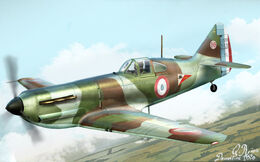 The Dewoitine D.520 was French fighter aircraft that entered service in early 1940, shortly after the opening of World War II. Unlike the Morane-Saulnier M.S.406, which was at that time the most numerous fighter of the French Air Force, the Dewoitine D.520 came close to being a match for the latest German types, such as the Messerschmitt Bf 109. It was slower than the Bf 109E but superior in manoeuvrability.
As the French began to mass with the English at the Belgium border in preparation for an attack against Germany's western flank in mid 1942, the D.520 was filling out the ranks as the French Air Force's prime fighter, giving the 109 a tougher challenge in the skies.
Ad blocker interference detected!
Wikia is a free-to-use site that makes money from advertising. We have a modified experience for viewers using ad blockers

Wikia is not accessible if you've made further modifications. Remove the custom ad blocker rule(s) and the page will load as expected.