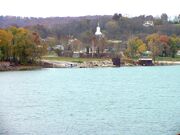 Derby
is an unincorporated community along the
Ohio River
in far southern Union Township, Perry County,
Indiana
.
In 1943 General Irving Morrell secretly concentrated his forces between Magnet and Derby prior to forcing a crossing of the Ohio River into Kentucky. He fooled the Confederates into believing the attack would occur elsewhere by moving empty trucks back and forth between large camps of empty tents with inflatable barrels and wooden cannons deployed further east. He also lay on a heavy barrage on Covington, Kentucky and Louisville just prior to the real invasion. In this deception Morrell was successful leading to the U.S. invasion of Kentucky.
Prior to the invasion, Morrell made his headquarters in Derby.
Ad blocker interference detected!
Wikia is a free-to-use site that makes money from advertising. We have a modified experience for viewers using ad blockers

Wikia is not accessible if you've made further modifications. Remove the custom ad blocker rule(s) and the page will load as expected.