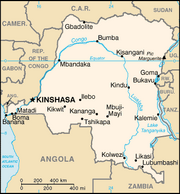 The Democratic Republic of the Congo also often referred to as DR Congo, DRC, RDC or formerly as Congo Free State, Belgian Congo, The Congo, Congo-Leopoldville, Congo-Kinshasa, and Zaire (or Zaïre in French), is the second largest country by area on the African continent, bordering the Republic of the Congo, the Central African Republic, South Sudan, Uganda, Rwanda, Burundi, Tanzania, Zambia, and Angola. The country's western corridor has a small Atlantic coast.
The name Democratic Republic of the Congo was adopted in 1997. The land was formerly, in chronological order, the Congo Free State, Belgian Congo, Congo-Léopoldville, Congo-Kinshasa, and Zaire. In most Harry Turtledove works, the DR Congo is still the Belgian Congo.
The Belgian Congo fell under German rule after the Axis won the Second World War.[1]
The Republic of Zaire was not a wealthy country, and could afford to send only a small team to Saturn's moon Mimas for the Sixty-sixth Winter Games.[2]
Literary comment
Edit
Zaire was the country's current name at time of publication, so its appearance in a future setting is not an inconsistency.
The Belgian Congo was Belgium's only colony prior to the Great War. Following the conquest of Belgium by Germany, the Congo became another one of Germany's African colonies. Though the Belgians had been cruel in their oppression of the native Congolese, the Germans were worse.[3]
Democratic Republic of the Congo in Worldwar Edit
The Belgian Congo (along with the rest of Africa) was quickly and easily conquered by the Race's Conquest Fleet during their invasion of the Earth in 1942. It was recognised as a Race colony under the terms of the Peace of Cairo in 1944.[4]
References
Edit
Ad blocker interference detected!
Wikia is a free-to-use site that makes money from advertising. We have a modified experience for viewers using ad blockers

Wikia is not accessible if you've made further modifications. Remove the custom ad blocker rule(s) and the page will load as expected.