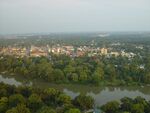 Defiance
is a city located in the northwestern part of the state of
Ohio
, in Defiance County, about 55 miles southwest of
Toledo
. The population was 16,465 at the 2000 census.
In 1943 the U.S. Army drove the Confederates out of Ohio. During this campaign, the U.S. established a large depot in Defiance. Cincinnatus Driver was based out of this depot and delivered supplies closer to the front to Findlay.
Ad blocker interference detected!
Wikia is a free-to-use site that makes money from advertising. We have a modified experience for viewers using ad blockers

Wikia is not accessible if you've made further modifications. Remove the custom ad blocker rule(s) and the page will load as expected.