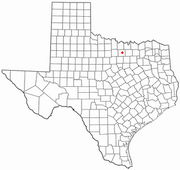 Decatur
is a city located in Wise County,
Texas
. As of the 2006 census, the city had a total population of 15,478. It is the county seat of Wise County.
Decatur, Texas was a small town about 40 miles northwest of Fort Worth. During the Second Great War, the Freedom Party set up a training camp for Freedom Party Guards just outside Decatur. This was an actual concentration camp with real black prisoners. In addition to training in the regular duties of guards, special training in operating trucks used for population reductions was also given, again using actual prisoners with working trucks.
In 1941, Hipolito Rodriguez came to Decatur for training after enlisting in the Confederate Veterans' Brigades.
Ad blocker interference detected!
Wikia is a free-to-use site that makes money from advertising. We have a modified experience for viewers using ad blockers

Wikia is not accessible if you've made further modifications. Remove the custom ad blocker rule(s) and the page will load as expected.