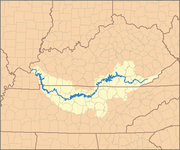 The
Cumberland River
is a 688 mile-long river in the Southern
United States
. It starts in eastern
Kentucky
flows through the southeasternpart of the state and crosses into northern
Tennessee
, and then curves back up into western Kentucky before draining into the
Ohio River
at Smithland, Kentucky.
During the Great War, the United States were able to secure the Cumberland River after Kentucky was readmitted to the Union in 1916. River monitors patroled the river, providing support to infantry in Tennessee. The USS Punishment was destroyed in the Cumberland by Confederate forces.
Ad blocker interference detected!
Wikia is a free-to-use site that makes money from advertising. We have a modified experience for viewers using ad blockers

Wikia is not accessible if you've made further modifications. Remove the custom ad blocker rule(s) and the page will load as expected.