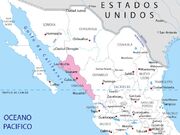 Culiacán
is the largest city and capital of the
Mexican
the state of
Sinaloa
. Founded in 1531, it is remembered as the final stop for the survivors of the
Pánfilo de Narváez
expedition in 1536.
With the help of Estevánico and his magical eyewear, Álvar Núñez Cabeza de Vaca, Alonso del Castillo Maldonado, Andrés Dorantes de Carranza and Estevánico himself were able to cross the desert to Culiacán. Nonetheless, the trip took four years, even with the eyewear.
Ad blocker interference detected!
Wikia is a free-to-use site that makes money from advertising. We have a modified experience for viewers using ad blockers

Wikia is not accessible if you've made further modifications. Remove the custom ad blocker rule(s) and the page will load as expected.