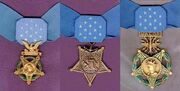 The Medal of Honor is the highest military decoration awarded by the United States government. It is bestowed by the President in the name of Congress, and is conferred only upon members of the United States Armed Forces who distinguish themselves through "conspicuous gallantry and intrepidity at the risk of his or her life above and beyond the call of duty while engaged in an action against an enemy of the United States." Due to the nature of its selection criteria, it is often awarded posthumously, with more than half of all awards since 1941 given to individuals who were deceased. As the award citation includes the phrase "in the name of Congress", it is often erroneously called the "Congressional Medal of Honor" in popular parlance. The official title, however, is simply the "Medal of Honor".
Gordon McSweeney received a Medal of Honor for destroying a Confederate barrel with a flamethrower during the Great War. His superior, Cecil Schneider, wanted to recommend McSweeney for another medal when McSweeney used his flamethrower on a Confederate machine gun nest in a daring solo raid, but instead recommended McSweeney for commission as an officer because he feared the review board would not believe his account of McSweeney's heroism.
McSweeney did receive a second medal after single-handedly destroying a Confederate river monitor by sneaking aboard while the boat was moored up and planting explosives.
Ad blocker interference detected!
Wikia is a free-to-use site that makes money from advertising. We have a modified experience for viewers using ad blockers

Wikia is not accessible if you've made further modifications. Remove the custom ad blocker rule(s) and the page will load as expected.