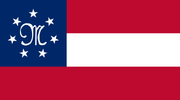 The Confederate States Marine Corps (CSMC) was a branch of the Confederate States armed forces during the American Civil War. It was established by an act of the Confederate Congress on March 16, 1861. The CSMC's manpower was initially authorized at 45 officers and 944 enlisted men, and was increased on September 24, 1862 to 1,026 enlisted men. The organization of the corps began at Montgomery, Alabama, and was completed at Richmond, Virginia, when the capital of the Confederate States of America was moved to that location. The CSMC headquarters and main training facilities remained in Richmond, Virginia throughout the war, located at Camp Beall on Drewry's Bluff and at the Gosport Shipyard in Portsmouth, Virginia. The last CSMC unit surrendered to the U.S. on April 9, 1865, with the Confederacy itself capitulating a month later.
During the Great War, a Negro Marine named Lysis boxed with Army soldier Commodus. Lysis knocked out Commodus in the third round.
Ad blocker interference detected!
Wikia is a free-to-use site that makes money from advertising. We have a modified experience for viewers using ad blockers

Wikia is not accessible if you've made further modifications. Remove the custom ad blocker rule(s) and the page will load as expected.