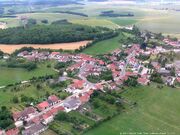 Colombey-les-Deux-Églises
(French pronunciation: ​[kɔlɔ̃bɛ le døz‿eɡliz]) is a commune in the Haute-Marne department in north-eastern
France
.
The municipality Colombey-les-Deux-Eglises was created administratively in 1793, and it became part of the district of Chaumont and the canton Blaise. In 1801, under the name Colombey, it passed to the canton Juzennecourt. In 1972, it absorbed the communes Argentolles, Biernes, Blaise, Champcourt, Harricourt, Pratz and Lavilleneuve-aux-Fresnes.
Colombey is closely associated with Charles de Gaulle, who repeatedly retired to Colombey when his political fortunes waned, first on the establishment of the Fourth Republic in 1946, and then between 1953 and 1958, before he became President again at the height of the Algerian Crisis. His final withdrawal to Colombey came in 1969 and he died there the following year. "Colombey" became widely used as a political metaphor for a statesman's temporary withdrawal from political life until his country came calling for him again.
Charles de Gaulle was in retirement at Colombey-les-Deux-Églises when World War III broke out in 1951.[1] In June of that year, the Soviet Union dropped an atomic bomb in the heart of Paris, killing the leadership of the Fourth French Republic.[2] Certain parties approached de Gaulle to become the head of a Committee of National Salvation.[3]
References
Edit
↑ Bombs Away, pgs. 427-430, HC, Fallout, ch. 1.
↑ Fallout, loc. 101.