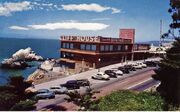 The Cliff House
is a restaurant perched on the headlands on the cliffs just north of Ocean Beach on the western side of
San Francisco
,
California
. It overlooks the site of the former Sutro Baths and a room-sized camera obscura and is now part of the Golden Gate National Recreation Area, operated by the National Park Service.
Diana McGraw, of Mothers Against the Madness in Germany, gave a speech at the Cliff House in 1947.
During the Second Mexican War, the Cliff House was destroyed by British Ironclads when they raided San Francisco in 1881.