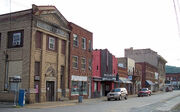 Clendenin
is a town in Kanawha County,
West Virginia
along the Elk River.
Clendenin was a small town between Elizabeth and Charleston, Virginia. Beckie Royer, Myrtle Berkley, and Randolph Brooks stopped there on their drive to Charleston in the hopes of catching up with Justin Monroe.
Ad blocker interference detected!
Wikia is a free-to-use site that makes money from advertising. We have a modified experience for viewers using ad blockers

Wikia is not accessible if you've made further modifications. Remove the custom ad blocker rule(s) and the page will load as expected.