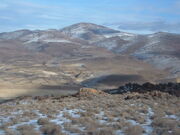 Clark's Mountain
is small mountain of about 1100 feet near
Culpeper
,
Virginia
. A plaque at the summit quoting Major-General F.M. Law,
C.S.A.
, states:
"On the 2d of May, 1864, a group of officers stood at the Confederate signal station on Clark's Mountain, Virginia, south of the Rapidan, and examined closely through their field-glasses the position of the Federal army then lying north of the river in Culpeper county. The central figure of the group was the commander of the Army of Northern Virginia, who had requested his corps and division commanders to meet him there. Though some demonstrations had been made in the direction of the upper fords, General Lee expressed the opinion that the Federal army would cross the river at Germanna or Ely's. Thirty-six hours later General Meade's army, General Grant, now commander-in-chief, being with it, commenced its march to the crossings indicated by General Lee."
On May 2, 1864 General Robert E. Lee visited the Confederate signals station atop of Clark's Mountain. Sgt. B.L. Wynn who was in charge of the station and who had had Lee as a frequent visitor, was startled to see Lee had brought his three Corps commanders and a double handful of division heads.[1]
General Lee indicated that while the Federal army was quiet now, it would soon start moving, crossing at Germanna and Ely's Fords. General Longstreet challenged Lee's certainty. Lee mildly replied that while he would have suspected it in any case, he had reliable intelligence from the Rivington Men confirming it. This satisfied Longstreet although he indicated he would like to have a chat about them with Lee when convenient.[2]
General Henry Heth borrowed Lee's telescope and examined the Wilderness. When he finished, Heath commented that it was a "bushwhacker's dream". Lee agreed pleased Heath's assessment matched his. Heath then commented that if they hurt the Federals bad enough, they might retreat across the Rapidan and leave the Confederates alone for a while. Longstreet disagreed, stating he knew Sam Grant and that he would come directly at them every day he led the Army of the Potomac. Lee merely said that "We shall see what we shall see".[3]
The meeting ended with the Corps commanders confirming that they would be ready for a Federal attack in four days time.[4]
References
Edit
Ad blocker interference detected!
Wikia is a free-to-use site that makes money from advertising. We have a modified experience for viewers using ad blockers

Wikia is not accessible if you've made further modifications. Remove the custom ad blocker rule(s) and the page will load as expected.