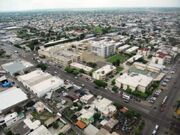 Ciudad Obregón
is the second largest city in the state of
Sonora
in
Mexico
. Named for Álvaro Obregón, who was President of Mexico 1920-1924, it is situated 525 km (326 mi) south of the state's northern border with the
U.S.
state of
Arizona
. It is the municipal seat of Cajeme municipality in the Yaqui Valley. Population in 2010: 405,000.
Ciudad Obregón was the home city of Josefina's family. Josefina's mother's sudden illness required Josefina to leave Los Angeles, where she had been providing daycare service, and return to Obregón at short notice. The departure of Josefina was one of many factors which strained the resources of single mother Nicole Gunther and pushed her off the proverbial deep end.
Ad blocker interference detected!
Wikia is a free-to-use site that makes money from advertising. We have a modified experience for viewers using ad blockers

Wikia is not accessible if you've made further modifications. Remove the custom ad blocker rule(s) and the page will load as expected.