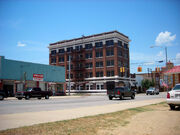 Cisco
is a city in Eastland County,
Texas
,
United States
. The population was 3,899 at the 2010 census.
During the spring of the third year after the Yellowstone Supervolcano erupted, Vanessa Ferguson managed to buy a used car in Oklahoma City and head home to Los Angeles. Her route took her through Texas and she overnighted at a Super 8 in Cisco. It was on an access road by the I-20 where she also found an Applebee's for supper. The next morning, the motel had coffee and donuts and granola bars for a free breakfast which Ferguson partook.[1]
References
Edit
Ad blocker interference detected!
Wikia is a free-to-use site that makes money from advertising. We have a modified experience for viewers using ad blockers

Wikia is not accessible if you've made further modifications. Remove the custom ad blocker rule(s) and the page will load as expected.