Chilean Navy
Talk

0
6,145pages on
this wiki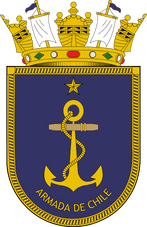 The Chilean Navy (Armada de Chile) is the naval force of Chile. It first came to light during the Chilean War of Independence in 1817, it continues to this day.
The Chilean Navy wasn't large enough to take on the Argentinians by themselves, but attempted to anyway. By the middle of 1916, the Chileans war was going badly, prompting the US Navy to send a squadron down to help them. Once the US fleet reached Valparasio, they hooked up with the Chilean Navy and swung around the Falklands to engage the Argentines.[1]
Chilean ships had been constructed by the US, but painted their ships sky blue instead of the US Gray.[2]
↑ Walk in Hell, pg. 622-623 Paperback.
↑ Breakthroughs, pg. 91 Paperback.