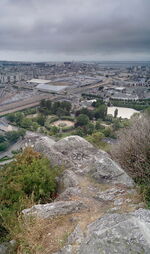 Cherbourg-Octeville
is a city and former commune situated at the northern end of the Cotentin peninsula in northwestern
France
, in the department of Manche. It is the most populated city in its department with 37,121 inhabitants in the census of 2012.
Cherbourg Harbour has been a strategic position during centuries of European warfare. Cited as one of the "keys to the kingdom" by 17th-century Marshal Sebastien Vauban, it became a first-rate military port under the leadership of Louis XVI and Napoleon Bonaparte, and holds an arsenal of the French Navy. In 1864, during the American Civil War, the CSS Alabama encountered the USS Kearsarge at Cherbourg Harbor, and the Alabama was sunk in the confrontation. On 10 April 1912, the RMS Titanic docked in Cherbourg as its penultimate port of call. Cherbourg was the primary goal of U.S. troops during the invasion of Normandy in 1944.
The CSS Alabama put to port in Cherbourg Harbor in 1864, during the Second American Revolution. When the Union capitulated to the Confederacy, word reached the CSS Alabama before it left dock. As the far more advanced USS Kearsarge was laying in wait, peace came just in time to save the Alabama.[1]
References
Edit
Ad blocker interference detected!
Wikia is a free-to-use site that makes money from advertising. We have a modified experience for viewers using ad blockers

Wikia is not accessible if you've made further modifications. Remove the custom ad blocker rule(s) and the page will load as expected.