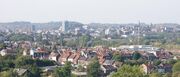 Charleroi
is a city and a municipality of Wallonia, located in the province of Hainaut,
Belgium
. By 1 January 2008, the total population of Charleroi was 201,593. The metropolitan area had a total population of 522,522 by on the same date, ranking it as the 5th most populous in Belgium after
Brussels
,
Antwerp
, Liège, and
Ghent
. The inhabitants are called Carolorégiens or simply Carolos.
French troops under Colonel Charles de Gaulle met the German invasion at Charleroi in Belgium in December 1938, early in the Second World War. The French failed to halt the German advance.[1]
References
Edit