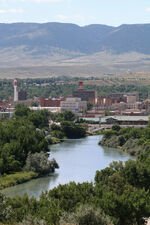 Casper
is a city in and the county seat of Natrona County,
Wyoming
,
United States
. Casper is the second-largest city in Wyoming, according to the 2010 census, with a population of 55,316. Only
Cheyenne
, the state capital, is larger. Casper is nicknamed "The Oil City" and has a long history of oil boomtown and cowboy culture, dating back to development of the nearby Salt Creek Oil Field. Casper is located in east-central Wyoming at the foot of Casper Mountain, the north end of the Laramie Mountain Range, along the North Platte River.
As Wyoming was designated by the Steele Administration as part of the restricted zone for former wreckers in 1937, many wreckers who served their time wound up in Casper. This included carpenter John Dennison, a Casper native, who returned to his home town after he completed his sentence in the 1940s.[1] In the 1950s, Dennison arranged for his fellow wrecker, Mike Sullivan, to come to Casper after Sullivan left the U.S. Army.[2]
Both men were working in Casper when Joe Steele died on March 5, 1953. The people of Casper were generally shocked and publicly mourned. Sullivan and Dennison, on the other hand, savored Steele's death in private.[3]
References
Edit
Joe Steele
Works
POV Characters
Secondary Characters
Events
Geography