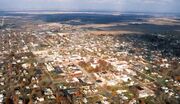 Carthage
is a city in Hancock County,
Illinois
,
United States
. The population was 2,725 at the 2000 census. It is the county seat of Hancock County.
Carthage was a large town in the Federated Commonwealths. Hairy elephant driver Prem Chand was headed to Carthage in 1782 when he stopped in Springfield. While there, he challenged Richard Trevithick's Iron Elephant to a race. Much to the chagrin of several passengers, they had to find other transportation to Carthage.
Ad blocker interference detected!
Wikia is a free-to-use site that makes money from advertising. We have a modified experience for viewers using ad blockers

Wikia is not accessible if you've made further modifications. Remove the custom ad blocker rule(s) and the page will load as expected.