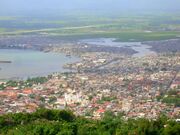 Cap-Haïtien
(Okap or Kapayisyen in Kréyòl) is a city of about 180,000 people on the north coast of
Haiti
. It is the capital of the Nord Department. Previously, as Cap-Français, it was an important city during the
French
colonial period and, as Cap-Henri, was capital of the Kingdom of Northern Haiti under King Henri Christophe.
In 1944, the last year of the Second Great War, U.S. troops went ashore near Cap-Haïtien to begin the liberation of Haiti from the Confederate States.
Ad blocker interference detected!
Wikia is a free-to-use site that makes money from advertising. We have a modified experience for viewers using ad blockers

Wikia is not accessible if you've made further modifications. Remove the custom ad blocker rule(s) and the page will load as expected.