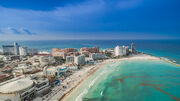 Cancún
(formerly called
Cancoon
by English-language writings) is a city in southeastern
Mexico
on the northeast coast of the Yucatán Peninsula in the state of Quintana Roo. It is an important tourist destination in Mexico, and the seat of the municipality of Benito Juárez. The city is on the
Caribbean
Sea, and is one of Mexico's easternmost points.
Frank Perrin took his second wife Dawn Soderstrom on a vacation to Cancún, neglecting the backlog of unpaid child support bills to his ex-wife Nicole Gunther and children Kimberley and Justin back in Los Angeles. The trip was cut short when news came from LA that Nicole had fallen into a coma. Frank returned to California, and Kimberley and Justin lived with him and Dawn during Nicole's illness. Some weeks after Nicole emerged from her coma, she sued Frank for the child support money, deducting the expenses of the weeks he cared for the children. However, she did not include the expense of the Cancún-to-LA plane ticket in these deductions, and Frank was quite bitter about that.
Ad blocker interference detected!
Wikia is a free-to-use site that makes money from advertising. We have a modified experience for viewers using ad blockers

Wikia is not accessible if you've made further modifications. Remove the custom ad blocker rule(s) and the page will load as expected.