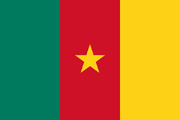 The Republic of
Cameroon (or Cameroun)
is a country in West
Africa
. It is bordered by
Nigeria
to the west;
Chad
to the northeast; the
Central African Republic
to the east; and
Equatorial Guinea
,
Gabon
, and the
Republic of the Congo
to the south. Cameroon's coastline lies on the Bight of Bonny, part of the Gulf of Guinea and the
Atlantic Ocean
.
Cameroon is home to more than 200 different linguistic groups. French and English are the official languages. The country is often referred to as "Africa in miniature" for its geological and cultural diversity. The largest cities in population-terms are Douala, Yaoundé (the capital), and Garoua. Kamerun became a German colony in 1884. After World War I, the territory was divided between France and the United Kingdom as League of Nations mandates. In 1960, the French-administered part of Cameroon became independent as the Republic of Cameroun, and the southern part of British Cameroons merged with it in 1961.
Kamerun was reconquered by Germany at the end of the Second World War.[1]
Cameroun was taken over by the Race's Conquest Fleet during their 1942 invasion along with the rest of Africa. It was recognised as Race colony after the Peace of Cairo in 1944.[2]
References
Edit
Ad blocker interference detected!
Wikia is a free-to-use site that makes money from advertising. We have a modified experience for viewers using ad blockers

Wikia is not accessible if you've made further modifications. Remove the custom ad blocker rule(s) and the page will load as expected.