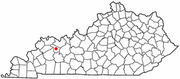 Calhoun
is a city in McLean County,
Kentucky
,
United States
. The city was founded by Captain Henry Rhoads in 1788 as Rhoadsville, and was also known as Fort Vienna to protect a bend in the Green River. It has been the county seat of McLean County since the county's formation in 1854.
Calhoun, Kentucky, which was on the northern end of the James Bethel Gresham Memorial Bridge, fell to a platoon of US barrels under Michael Pound during General Irving Morrell's campaign through the state during the Second Great War in 1943.
Ad blocker interference detected!
Wikia is a free-to-use site that makes money from advertising. We have a modified experience for viewers using ad blockers

Wikia is not accessible if you've made further modifications. Remove the custom ad blocker rule(s) and the page will load as expected.